60,000 Q&A topics -- Education, Aloha, & Fun
topic 17437
Touching up Alodine1200
2002
I have scratched some Aluminum parts treated with Alodine1200, How can I get the touch up to work. I cleaned the surface with Acetone [affiliate link to product info on Amazon] then an alcohol. The touch up beads up and doesn't stay on the surface that needs touching up. Please help! in a bind.
Joel Lala
- Sturbridge, Massachusetts
---
2002
Put on rubber Protective Gloves [affiliate link to product info on Amazon] or grocery store latex. Using a Q-tip or a cotton rag, wipe the "bare" area with a deoxidizing solution at 3 or 4 times regular tank strength. Squirt on some clear water to rinse. Now wipe with 3X or 4X normal concentration of chromate. Squirt again with clear water, Let cure 24 hours. Take two aspirin and call me in the morning.

Robert H Probert
Robert H Probert Technical Services

Garner, North Carolina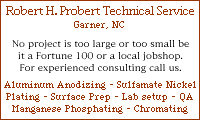 adv.