Where the world gathers for
plating, anodizing, & finishing Q&As since 1989
-----
Removal of Scale / Stain from SS 302 L material
2002
I am looking for the ways to remove oxide (scale) from 302 L SS material. The scale / Stain is formed during the cold forming operation when a hot tool comes into contact with the material (hot tool burns the lubricant (oil) leaving a scale / stain mark). This stain doesn't go in degreasing (Alkali Soak cleaning). I have degreased and pickled in HN03 and NaF the stains get removed but the surface looks bit dullish.

I have also tried with 25% H2SO4 / 4 % HN03 / 4% HCl I am getting the same finish. The stain is embedded into the surface so if the stain is removed some amount of material from the whole body is removed leaving dullish finish due to micro etching. Another way which I can try? electrolytic? Your help is appreciated.

Thanks ..
Karthik
- Singapore
---
2002
The stain apparently is burning into the steel itself, giving you some carbides, etc. Even with the low carbon grade this can happen. If it was just the oil being burnt you could remove it without affecting the finish of the steel.

Any mineral acid method of removal is likely to leave a dull finish on the stainless because it is etching the steel.

Electropolishing will solve the problem. You can do this in a conventional electropolishing bath, if you can put the parts into a bath. Or, you can use selective polishing of the heat affected area with the right device and product. If you contact us we can tell you what to use depending on the exact size, shape, etc. of your parts. There are low cost ways to do this.


Lee Kremer
Stellar Solutions, Inc.

McHenry, Illinois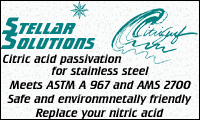 ---
2002
Dear Lee,

Thanks for your advice. The component I am talking about is a SS screw with Torx recess. The burn mark / scale is in the recess of the screw during the punching operation, this is where the oil (which is used as lubricant) burns and forms a stain / Scale in the recess.

These components go for EP process after degreasing. Since the stain is observed only in the recess the penetration of EP is not so good, as the recess is a Very Low CD area. So after EP it appears like some screws are good and some have stain in the recesses. We are doing barrel EP and ours is mass production so the using of a jig is ruled out. We can remove the stain by extending the time (removing more material), but at the stake of dimension which is very critical. Thats why I want to remove the stain by a chemical process or process that will not affect the dimension of the component as well as the finish. If I do the etching with mineral acid the recess still looks different from other parts after EP. Any other ways? please advice.

Thanks ...
Karthik
- Singapore