60,000 Q&A topics -- Education, Aloha, & Fun
topic 17383
Corrosion Prevention
2002
Sir,
We basically a manufacturers of Telcom cabinets situated in Madurai. We recently come across a problem of Plating peel off in our support fixed inside our Cabinet. We also assured the rust formation in the support inside. The support is a MS flat of 6mm thickness and with a finish of Blue passivation [Zinc]. Now our customer wants to correct the support without removing it from the cabinet as the connection has already made to the subscribers. We need a cost effective, fine method to overcome this problem. Any input/suggestion will help us a lot.
Also, suggest us to select better finishing process to over come in future. Our cabinets mounted on road side which has to withstand humidity, salty environment etc.
Awaiting for better solution.
Srinath Sundarajan
- Madurai, Tamilnadu, India
---
2002
You can't do anything now but paint over the zinc blue piece. In future opt for zinc yellow or olive passivation over the zinc plating, definitely not blue.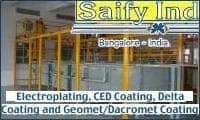 ---
2002
Dear Sir,
You can use the PTFE resin based coatings or platings for your components and on parts. That will withstand all salty environment.
Best luck,
Kalyan
- Mumbai, India