Where the world gathers for
plating, anodizing, & finishing Q&As since 1989
"Infrared enhancing coatings"
-----
2002
I manage a series of metal full-size, mock-up targets for allied tactical fighter training here in Goose Bay, Labrador. I am looking for a coating to make the aluminum targets more infrared significant by either absorbing and reemitting more solar energy or re-radiating more solar or cielestial energy.
Does anyone know of such a coating? Colour is not really much of a concern but low toxicity is critical as well as ease of application. The coating would have to be evaluated by the Defence Research and Development Organization at Valcartier, Quebec.
Thanks, Greg
Captain Greg Castagner
Fed Govt of Canada, 5 Wing Goose Bay - Goose Bay, Newfoundland, Canada
---
2002
Have coated stainless steel skirts for simulated "skuds" with black chrome to give better thermal image for our missiles to seek out and destroy. Sounds similar but your aluminum drones would be more likely coated with matte black anodize. Treating the aluminum surface with a superficial micro-etch prior to anodic treatment would give the parts a more adsorbing, less reflective finish. We've used this treatment, marketed under the name AnoBlack 606 but other versions available from most quality anodizers, on hundreds of optical components used in a variety of industries.
P.S. Stay warm in Newf; if you can!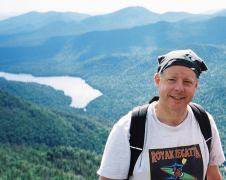 Milt Stevenson, Jr.
Anoplate Corporation

Syracuse, New York
---
2002
Thanks Milt, I guess I should mention that the targets are full size T-80 MBTs and they are exposed to the northern Canadian elements in perpetuity. Does the coating you mention bear-up to Canadian winter after Canadian Winter?
Cheers,
Greg Castagner
- Goose Bay NF, Canada