Where the world gathers for
plating, anodizing, & finishing Q&As since 1989
-----
Testing stainless steel passivation with a meter
2002
Q. A recent request by our customer to pass a "meter test" for passivated components has failed. Although this is an option in QQ-P-35C [link is to free spec at Defense Logistics Agency, dla.mil] specification (obsolete), par. 6.14, it is the first request for the "meter test" ever recalled here. These are not unusual nor unlike many other parts that we passivate process. The components are 304 and 316 stainless steel with attached weldments. Parts are processed in electropolish prior to passivation process. The passivate solution consists of nitric acid @ 30 - 40 % bv, 70 - 90 °F for 30 minutes (ASTM A967 [affil link] ). Failure of the meter test is at and near the welded areas on the parts. Part surfaces are clean and free of scale. All components pass the copper sulfate test, per specification, in all areas.
Questions regarding meter testing:
1. What is the principle of this type of meter? millivoltage?
2. How consistent are readings of these meters?
3. Any helpful tips on meter use?
4. What does the meter measure? - Free iron on surface (per QQP-35)? - Passive/active surface potential?
5. How accurate are these meters for what they measure?
norma kemm
- denver, colorado, usa
---
2002
A. The problem isn't your passivation or e/p process; it's the welding. When the carbon level is elevated it combines with chrome to form chromium carbide when heated. This is typically referred to as "chromium depletion" and results in decreased corrosion resistance in the "heat affect zone."
Go back to the designers, manufacturers, fabricators and tell them to re-spec the parts with 304L which is 304 with Lower carbon for welding applications. Look around in any plating shop at the stainless tanks. If they're bright and shiny except for the welds, you'll see obvious signs of "chromium depletion." Whenever we spec out stainless steel tanks for in the shop, we spec out 304L or 316L.
We've used the "Passitestor" which is OK in that it gives a quantitative measurement of passivity so is useful in rating different processes (citric vs. nitric, for example would be a stellar application ). I'm not sure you'll ever successfully pass in the welded zone.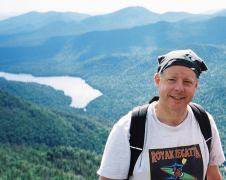 Milt Stevenson, Jr.
Anoplate Corporation

Syracuse, New York
---
2002
A. We are not sure what kind of meter you are using-- there are several available around the world. But, we have found them in general to be very erratic in determining passivity of the surface and corrosion resistance. Many others in the industry have had the same results, this is why ASTM does not recognize this method of testing.
The theory is that the passive layer (chromium and nickel oxides) are less conductive than the base metal. In theory this should be correct, if it could be done accurately.
We have measured unpassivated vs. passivated parts with one meter and found no difference in results. In fact we tested iron contaminated surfaces and found them to be "passive" according to this test. We would VERY MUCH love to have someone come up with one of these meters that really does work and can substantiate it with data of passivated vs. unpassivated surfaces compared to good corrosion tests like salt spray. Our customers would love to have a quick method like this, but have been unable to use it because of the inconsistency.


Lee Kremer
Stellar Solutions, Inc.

McHenry, Illinois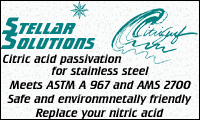 ---
November 11, 2014
A. There is a wealth of data available that prove passivation meters are effective at verifying the passivation state of stainless steel parts and equipment. Numerous industries, including pharmaceutical and beverage industries enjoy the speed and ease of using a passivation tester. These testers are non-destructive and record and save data points.
Wolf Koslow
Koslow Scientific Company

Englewood, New Jersey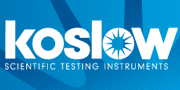 adv.