Where the world gathers for
plating, anodizing, & finishing Q&As since 1989
-----
Will Epoxy Paint Support Fungus Growth?
2002
Q. Are High-Solids Epoxy paints considered fungus inert when in the cured state, specifically those covered by MIL-PRF-22750 [link is to free spec at Defense Logistics Agency, dla.mil]. This question relates to fungus testing per MIL-STD-810 [link is to spec at dla.mil / Defense Logistics Agency], Method 508.4 Procedure I.
Carl B Montgomery
- Atlanta, Georgia USA
---
2002
A. Carl,
I first saw your query but waited for someone else to answer.
About mil specs I know nowt, ie. nothing ... but a little bit about plastics.
And if you put epoxy, polyester, PVC, PP, Pe etc.etc.etc in a 'growth' environment, NOTHING will happen. They are horribly inert substances. But after a long, LONG time, ah, perhaps some bacteria can lodge onto them and, after a long, long time, allow fungi or primitive plant life to hold on precariously PRESUPPOSING that there are no 'currents' or forces that would tend to make them separate.
I'm sure that some sunken fibreglass yacht would eventually show signs of marine growth, ditto for s.s. gold, platinum etc.etc.etc and etcetera. And the same reasoning applies surely to fungi.
So your mil spec testing must surely have an elapsed time schedule … because sooner or later, probably MUCH later, fungi might have a tenuous hold on an ultra smooth surface and a much better hold on one which is rough and full of crevices.
I hope that this answers your question.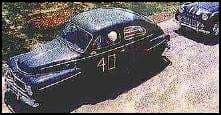 Freeman Newton
[deceased]
(It is our sad duty to advise that Freeman passed away
April 21, 2012. R.I.P. old friend).
---
August 28, 2018
A. I have been researching this as well and here is what I discovered.

1. MIL-PRF-22750G (Epoxy Paint) does not say anything about resistance to fungus.

2. Table 4-1 (Fungi Susceptibility of Materials) of MIL-HDBK-454 [link is to free spec at Defense Logistics Agency, dla.mil] B(General Guidelines for Electronic Equipment) lists Epoxy-resin as a "Fungus nutrient material" meaning that epoxy resin supports fungal growth.

From this I would say that epoxy paint per MIL-PRF-22750 will support fungal growth unless an anti-fungal additive has been added. I find it strange that the MIL does not specify such an anti-fungal additive, but it clearly does not.

BTW, all MIL specs and standards can be freely downloaded at quicksearch.dla.mil.
Yossi David
- Binyamina, Israel
adv.: