Where the world gathers for
plating, anodizing, & finishing Q&As since 1989
-----
Flash Copper Plating Failures in Switch Conductors
2002
Flash copper plating failures in switch conductors. I am receiving indicator light activation switches that have intermittent continuity failures. The copper plating is over a heat-treated steel substrate. The switch contacts exhibit some or all of the following characteristics:
1. Green discoloration (premature oxidation of the substrate?)in sporadic/random areas of the contact's surface.
2. Blisters
3. Fingerprints either on or just below the copper plating, but having witness marks.
4. Random areas that are dark, even black at time of arrival at our facility.
Can someone explain to me if the characteristics I've shown are contributing in whole or in part to the continuity failure mode? If my supplier's plating process is where the root cause appears to be, then (a)what could be the causes; (b)what do you recommend as a corrective action to his process; (c)will the condition get worse over time if the parts are not replaced?
Thank you,
Greg Johnson
- Jacksonville, Florida
---
2002
Green discolor is copper oxide in the green valence.
Blisters are because the heat treating scale (inorganic soil)was not completely removed.
Fingerprints are because the parts were not cleaned free of organic soil.
Dark area are because (1)freshly plated copper oxidizes immediately and/or (2) the copper plating bath is not properly operated.
a) Clean the parts free of organic soil, Rinse, remove inorganic soil in an acid, copper plate.
b) A dip in 1 oz per 100 gallons of chromic acid will retard the tendency of copper to tarnish. Absolutely perfect prevention would require nickel plating and then gold plating to 0.0001 inches thick.
c) Bare copper will continue to build up an insulative oxide with time, temperature, humidity, and catalytic action from surrounding organics (plastics)

Robert H Probert
Robert H Probert Technical Services

Garner, North Carolina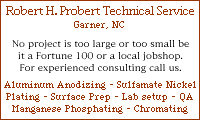 adv.: