Where the world gathers for
plating, anodizing, & finishing Q&As since 1989
-----
Paint Adhesion on chromated aluminum
2002
I am currently working on a project which involves the spray painting of an alchromated (chemically converted) aluminium component. Am experiencing problem with paint adhesion. Can anyone advise on the reasons? and a solution.
Many Thanks,
Keith Edgar
- Belfast, Northern Ireland
---
First of two simultaneous responses--2002

For paint adhesion the chromate must be very thin. The gel coating will shear and peel the paint if it is too thick.

Robert H Probert
Robert H Probert Technical Services

Garner, North Carolina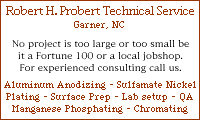 ---
Second of two simultaneous responses-- 2002

Hi Keith,
The answer to your question requires detective work. Poor paint adhesion can result from:
1. Poor cleaning of the substrate.
2. Poor or non-uniform etching of the substrate.
3. Poor de-oxidizing of the substrate.
4. Poor chromating of the substrate.
You have to be sure that all of your chemical stages are running within specification and are doing the job they're supposed to do. And how about the rinses?
5. Are they being overflowed adequately?
6. Are they being dumped daily?
Then you need to look at the paint line.
7. Is the paint being applied at the proper thickness?
8. Is the cure oven at the right temperature?
9. Are the parts in the cure oven for a sufficiently long time?
There's a very good chance that the answer to your adhesion problem can be found when you answer the above questions.
George Gorecki
- Naperville, Illinois
---
2002
Thanks for your help - very interesting. I tried posting some pictures but have had some technical difficulties! Just as a point of interest, do you think the time between chemical conversion and painting would have any effect on the adhesion?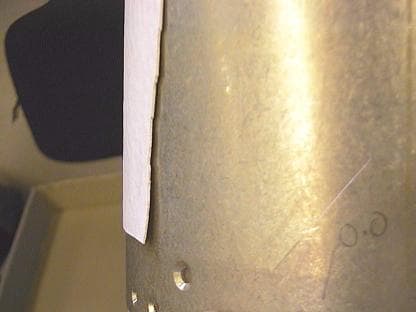 Many Thanks,
Keith Edgar
- Northern Ireland
---
2002
Hi Keith,
A long time between pretreatment and painting can have an effect. The magnitude of the effect is related in part to the environment where the treated is stored prior to painting. If the work sits in a corrosive environment, then the protective quality of the conversion coating can be adversely affected.
Ideally, the pretreated metal will be painted almost immediately after application of the conversion coating.
George Gorecki
- Naperville, Illinois
adv.: