Where the world gathers for
plating, anodizing, & finishing Q&As since 1989
Protection against sulphuric acid attacks on steel structures (India)
-----
2002
I have a steel structure in which I store lead acid batteries and at the time of charging of these batteries sulphuric acid spills out. I want to protect the structure by providing a stainless steel cladding on the steel structure.the structure is at room temp or little higher (say max 60 deg).Do you think it is a better idea than painting with anti acid paint .If the answer is yes then which grade of SS material I should use? regards Ravi
Ravinder Singh
ABC engineering - Surat Gujrat India
---
2002
Hi Ravinder!
I suggest, STRONGLY, that you use an acid resistant paint.
The cheapest ... and perhaps the best to use ... is an ordinary bitumastic paint, i.e., that gooey, black paint that people often use (in this country, anyhow!) on their shingle roofs when they have a leak.
You haven't indicated the 'size' of your charging room ... but if you are thinking of venting the fumes, don't use fibreglass (after 4 or so years it will warp and distort) but do what the Big Boys do and only use PVC.... and if that is case, then you'll be discharging acid fumes. The answer to that is to use a good horizontal (sine curved PVC blades) mist eliminator such as G.M., Delco Remy and Prestolite etc use.
Cheers !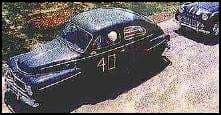 Freeman Newton
[deceased]
(It is our sad duty to advise that Freeman passed away
April 21, 2012. R.I.P. old friend).