Where the world gathers for
plating, anodizing, & finishing Q&As since 1989
-----
380 Anodize "Smutty" Finish
2002
We anodize a die cast composition 380 part. On occasion the parts have a "smutty" film on them that can be wiped off. We've been told that this condition happens when the silicon content of the 380 is high. Is this accurate? Is there any way to prevent this occurrence outside of changing the material?
Frank Coates
- Naples, Florida
---
2002
Apparently every 380 recipe is different from caster to caster, also the wall thickness causes a different amount of silicon to be on the surface, thinner areas tend to have more silicon (and other JUNK) than the thick areas.
Never alkali etch a casting, alkali removes aluminum and not silicon, you want to do the opposite. On most heavy wall 380's a simple 50% Nitric Acid with 1 pound per gallon ammonium bifluoride will remove the smut.
Some anodizers down in Florida swear by the Tri-Acid which adds sulfuric acid to the above, however going back to September 1950 I have never seen a casting that was improved by tri-acid versus simple Nitric/F.
In all cases the electrolytic action of the anodizing should pull off the smut and render as good finish as can be formed on the given "380" casting. Try wiping off the smut on one and leaving the smut on another to see if the smut is interfering with the anodic film formation, if not then the problem is the casting and not the smut. We only worry about smut when we are chromating.

Robert H Probert
Robert H Probert Technical Services

Garner, North Carolina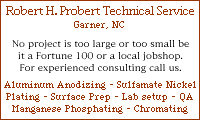 ---
2002
IF You ETCH THE 380 PLEASE FORGET IT THE BEST REMEDY IS MASS FINISHING WHICH REMOVE SCALE AND APPROACH TO A BRIGHT SURFACE.
TO AVOID DESMUT IN ANODIZING You HAVE TO FIND BEST current DENSITY (ALWAYS LOWER THAN ORDINARY CD) AND LOW VOLTAGE.
WORKING WITH FLUORIDE IS DANGEROUS.
HADI KHOSRAVI
- Tehran, Iran