World's #1 finishing resource since 1989
No login needed: Chime right in
topic 1784
Faster nickel deposit
1998
Our Nickel bath is: Nickel Sulfate 35 oz/gal; Ni Chloride 13 oz/gal; Boric Acid 7 oz/gal; PH is 3.5 to 4.2; metal by analisis is 11-12. With 22 sq.ft of surface in the barrel at 500 amps for thirty (30) minutes, the metal deposit was 0.00003; also with 55 minutes in the bath the deposit was 0.00009. Our client is asking for 0.0002-0.00025, is there anything we can and should do to achieve this deposit in less time than what is taking right now?
Wilbert E. Medina
electroplating shop, Bayamon, Puerto Rico
---
1998
Dear Mr. Medina,
I did no calculations for your problem, but something is very wrong. Barrel plating of bright or Watts nickel should occur at around 1 to 4 amperes/square foot (average) of surface area.
At 1 ampere/square foot, you would need 3.8 ampere hours to deposit 2 ten-thousandths of an inch of nickel on an area of 1 square foot (at 100% efficiency, not a bad estimate for nickel plating, it is actually a little less efficient);
3.8 amp hrs x 22 square feet = 83.6 amp hrs. If the setting on your rectifier's ampere meter is 22, then it would take about 4 hours to plate the minimum amount of 2 'tenths' of an inch of nickel (0.0002"). So at 4 amps/square foot, it should take about 1 hour to deposit the same amount.
p.s. People do plate at 1 ASF, average, when they want the best throwing power of the bath, and best ductility of deposit. For commercial plating of bright hardware, you will probably opt for speed ( lower cost) over achieving the finest mechanical properties of the deposit.
p.p.s. Unless you have special ductility problems, allow the pH to rise to 4.2- 4.6. The brightener and the pH buffer work better at this higher pH. You will use less brightener, and will need to reduce the feed rate.
Regards,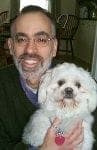 Tom Pullizzi
Falls Township, Pennsylvania
---
1998
Hi, Medina
Tom is right. If nothing was wrong with your measurement or calculation in the surface area of parts in your barrel, the power you used was far beyond the rang specified. The major portion of electrocity was consumed in hydrogen evolution in your case. This is why the coating thickness was much lower than you expected. The low pH also accelerated hydrogen evolution. Significant hydrogen evolution would deteriorate the nickel deposit and cause hydrogen embrittlement.
Ling Hao
- Grand Rapids, Michigan
---
1998
Dear Mr Medina ,
Tom's right but he is thinking of "RACK" plating , the same calculations are appropiate for a barrel installation , but because of the resistance offered by the barrel itself , the need for more Voltage than is required for a "RACK" plated part is significant .
So my advice is to wind up the voltage on the tank , if that is impossible then lessen the load .
regards
john,

John Tenison - Woods
- Victoria Australia