World's #1 on-line resource since 1989
-----
Steel in sea water - or something better?
2002
I am in the business of building fuel oil terminals for shipping. At one of my terminals I have inherited pipeline that passes on the underside of a pier and consequently gets wet twice a day. I want to replace it but want to use the best material. I was thinking about stainless steel until I read some of the previous correspondence on this site, Especially considering the fact that there are a lot of steel elements close by.
Is there any sort of plastic or composite pipe I could use for fuel oil? Can anyone offer some advise.
Paul Henty
Henty Oil Ltd - Liverpool, England
---
2002
Hi Paul,
Whereas I am a strong proponent of thermoplastics, may I suggest that you first of all 'try' a fibreglass pipe... but double-check with the resin supplier AND the fabricator... as you haven't given any sizing nor line pressures. There are a goodly number of excellent polyester and vinylester resins (quite apart from the cheaper boat type resins) ... and this you want to check...
Then, depending on velocity in the pipe, is the question of abrasion. Any sand particles? If so, FRP is nbg.
Now we get to thermoplastics and in your case I'd probably go to an 'armoured' pipe, which to-day is called a dual laminate ... then you can have your pick of (expensive!) fluorocarbons as the liner.
Lastly, what about the K.I.S.S. principle? If you are going to replace the pipe DUE TO EXTERIOR CORROSION, why not still use your mild steel and 'coat' it. Due to probable lengths involved, then plastisol is probably out. But a layer or two of fibreglass matte duly impregnated should do the trick and be the cheapest of the bunch. Go to a reputable FRP manufacturer to ensure that you get the necessary good bond to the metal. Another advantage over plastics is that the thermal expansion rate would not be a concern.
OK? Has that helped Beatle country? Cheers!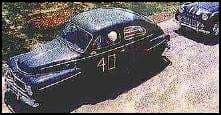 Freeman Newton
[dec]
(It is our sad duty to advise that Freeman passed away
April 21, 2012. R.I.P. old friend).