World's #1 on-line resource since 1989
-----
Pit marks observed after zinc plating
2002
Q. Dear Sir,
We are manufacturer of DIN rail channels sold in India. We have recently in ONE LOT OF PRODUCTION noticed a particular problem i.e. after the DIN rails were Electro Plated by Basic bath (12 microns out side & 8 micron Inside), we noticed after few days that the material was developing pit marks (Like chicken Pox). We have never faced a similar problem after wards. When we have replated one of the pitted Rail along with a fresh good material, our observation was that the pitted rail gets pit marks again in a few days whereas the other one remains good.
Have you ever faced this kind of problems?. DO you have any remedial measures to prevent such problems. Kindly send your reply.
Regards,
NAGARAJAN IYER
- Baroda, Gujarat, INDIA
---
2002
A. Dear Mr Iyer,
I am narrowing down a lot of probables to two:
1. Porosity in the raw material, probably H.R.Steel which causes "spotting out" after plating. This is common during the monsoon as the increased humidity accelerates this activity. In other months you may not observe this. If you are using ED or EDD grade steel generally then please investigate if a batch of pickled steel has got into the manufacturing line.
2. Downright bad post-treatment after plating. Ensure the plater has taken steps to neutralize all residues of plating solution before passivation. Shouldn't normally happen though if the raw material is not porous.
Regards,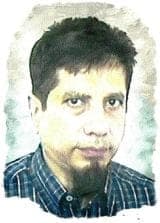 Khozem Vahaanwala
Saify Ind

Bengaluru, Karnataka, India