World's #1 on-line resource since 1989
-----
Anodizing streaks from cathode proximity
2002
At our plant we anodize aluminum reflectors to about 0.2 mils to preserve the chemically brightened surface . The reflectors are thin gage of 0.040" to 0.060". For our racks to accommodate a variety of diameters from 20" to 30", we use a 3-point surface contact racking system where the part rim sits in a 2-point cradle and a spring loaded third contact is lowered and locked onto the top of the part rim. One of our most recurring and troublesome defects is a crescent shaped white streak that appears on several parts in the rack always on the side of the part closest to the cathodes. The defect is in the coating as the part can be stripped and re-anodized often successfully.
Because of the part's thin gage, large area and 3 contact points, we have to run our larger parts at only 3.5 amps per square foot instead of the recommended 12. These are the parts most susceptible to the defect.
We are about ready to replace our 78 square foot cathode arrays again with 6063 T6 aluminum. (The area is just the area of the cathodes facing the rack.) The square footage of the problem part load is 320 square feet for a ratio of about 4:1 which is definitely a starving cathode ratio. Interestingly, other parts, that can receive a full 12 ASF and require a thinner coating thickness, have a load to cathode ratio of 7:1 and anodize fine without streaking. My suspicion is that the steaks are the result of porosity in the coating from being too near the cathodes with the anodic reaction being too intense to be compensated for with the micro-bubbling agitation.
My intention is, (since I can't change the parts or the racks or the tanks), to put some 3" wide horizontal shielding directly on top of the new cathodes at the heights where the defects occur to try to increase the effective distance from the cathode to the part.
My question is, does anyone have any similar experiences along these lines and does my approach seem plausible?
Thanks,
Bruce B
[last name deleted for privacy by Editor]
GE - Hendersonville, North Carolina
---
2002
No direct experience in this application, but it sounds reasonable. Another approach is to try to increase the agitation in this vicinity, since local overheating may be contributing to the problem.
In these times of incredible instability in the metal finishing industry, it's nice to hear from GE Hendersonville, an anodizing plant I visited a few times over 30 years ago.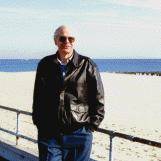 Ted Mooney
, P.E.
Striving to live Aloha
finishing.com - Pine Beach, New Jersey