World's #1 on-line resource since 1989
-----
Alternative to nickel strike for circuit board fingers
2002
We are working on an Air Force P2 need that requires an alternative to nickel plating on circuit board fingers used in multiple AF weapons systems and support equipment. The application is a 1 micron nickel strike deposited on the fingers for strength prior to depositing copper for conductance. An alternative to nickel is needed if future environmental regulations institute a reduction in nickel usage. Any thoughts or suggestions of current research?
Susan Brandick
CTC - Johnstown, Pennsylvania
---
2002
Switch to Cobalt. It has very similar properties and application methods are identical to nickel. Costs more at times, but you are talking about a very limited amount of actual metal.
James Watts
- Navarre, Florida
---
2002
Susan, have you explored the possibility of using vacuum coatings, e.g., Copper, Aluminum, Titanium or others ? Depositing 1 micron thickness of any of these economically would not be a problem.
Mandar Sunthankar
- Fort Collins, Colorado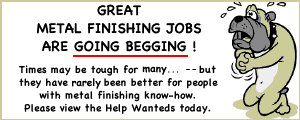 Plating Shop Manager [Salisbury, MD]
Junior Quality Engineer [Santa Clara, CA]
Plating Process Engineer [Wenatchee, WA]