World's #1 on-line resource since 1989
-----
Corrosion in refrigeration piping
2002
Dear sir,
We have used in our brine chilling plant ethylene glycol but now we are facing problem with bursting of welded joints. NaCl from load side has came in contact with glycol.
Kindly tell us the effect of reaction between ethylene glycol & sodium chloride on welded joints,& piping used in refrigeration system.
Hoping for positive reply from your side.
Thank you.
S Natu
- Pune, Maharashtra, India
---
2002
It should not come as any shock that SS weld joints give way in a high NaCl solution with time. The joints need to be heat treated after welding. The simplest thing would be to coat the joints with a vinyl masking material. The glycol has little effect other than a very mild erosion from the constant flow of a liquid.
James Watts
- Navarre, Florida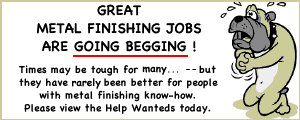 Plating Shop Manager [Salisbury, MD]
Junior Quality Engineer [Santa Clara, CA]
Plating Process Engineer [Wenatchee, WA]