World's #1 on-line resource since 1989
-----
Sulfate is climbing in chrome plating tank
2002
I am having problems with the sulfate level in a 185 gallon tank. The sulfate seems to increase without any additions of sulfuric acid. It is a 100:1 bath. We have not made and add since May and the sulfate has went from 0.4 to about 0.5 oz/gal. The only thing that I am aware of the platers adding is water to maintain freeboard. IF anyone has any suggestion to offer as to why this is occurring, please feel free to share them.
Jenn Wright
- Dayton, Ohio
---
First of two simultaneous responses -- 2002
I understand you are talking about chrome plating. If that is so, what type of water do you use? ( city or D.I/D.M.)
Payal Mag
- Charlotte
---
Second of two simultaneous responses -- 2002
All chromic acid contains sulfates as an impurity! All proprietary blends which include added catalyst, ALSO contain sulfate.
At least one of the leading vendors claim their proprietary mix does not contain sulfates - it does so - and people who use it have noticed what you have noticed, i.e. creeping up sulfate. You have to compensate for it, and run a few extra analyses to keep up.

Robert H Probert
Robert H Probert Technical Services

Garner, North Carolina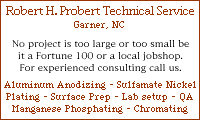 ---
2002
Hello Jenn,
Is your Chromic Acid bath solution level maintain at the same level when you take sample for analysis of sulfate? How about replenishment from your chrome drag out bath? Too much replenishment from drag out may increase your sulfate and chromic acid content.
Cheah Sin Kooi
- Hong Kong
---
2002
We use DI water on this particular tank. As for the level, the proper freeboard is maintained when samples are to be taken. Also we do add back some chrome to replenish the drag out. Thanks again for all the advice.
Jenn Wright
- Dayton Ohio
---
2002
i think robert and cheah are both right 1. chromic acid contains sulphate as an impurity which leads to increase in sulphate levels also compare sulphate levels at same tank volume. use good quality chromic acid with low sulphate levels vikram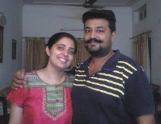 Vikram Dogra
Irusha India - Chandigarh, India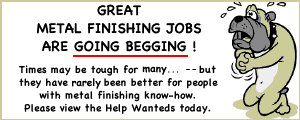 Plating Shop Manager [Salisbury, MD]
Junior Quality Engineer [Santa Clara, CA]
Plating Process Engineer [Wenatchee, WA]