World's #1 on-line resource since 1989
-----
Correct level of saccharin for nickel electroforming
2002
I work with nickel electroforming tank for shims. I have a lot of problems with internal stress. I think the problem is that there is high level of saccharin (hardening agent) in the electroplating bath. Could anybody tell me the optimum level of saccharin to avoid this problems?
Thanks,
JESUS GUELL
- Barcelona, Spain
---
2002
Your vendors tech service should be able to provide you with graphs of the stress levels at several levels of hardener or temperature or ? vs hardness. Pick your poison.
James Watts
- Navarre, Florida
---
2002
Since you are electroforming I expect you are using nickel sulphamate. The "correct" amount of saccharin will be dependent on numerous factors, such as the required hardness of the electroform, the stress levels you want, the temperature of the bath and the current density. The tensile strength of sulphamate nickel increases with increased current density, so the amount of saccharin you will need to maintain a relatively neutral or slightly tensile deposit will vary. However, as a guide line over a wide current density range, levels of less than 1 g/l saccharin will result in a tensile deposit and more than 1 g/l will give a compressive deposit. As far as hardness is concerned, saccharin in sulphamate nickel reaches its maximum effect at about 2 g/l, when it will produce a hardness of 500+Hv. A level of 0.2 g/l will give a hardness of about 380 Hv, assuming no other hardening agents are present. If you are using typical electroforming current densities of about 3-4 A/dm2, I! would suggest levels of 0/1-0.5 g/l, depending on your final needs. However, you may need other additives to increase your hardness. Talk to your supply house about these details.
If you are using a Watts nickel, the effect of saccharin will be slightly different. As a guideline, it produces maximum compressive strength (70 Mn/m2) at about 0.2 g/l, but will only give a hardness of about 320 Hv at this level. However, again, the effects will be dependent on temperature and current density. Saccharin is usually added as the sodium salt because it is more soluble than pure saccharin. To save any respondent having to first-guess your problems, it would be very useful if you could give more details of your process; what nickel bath are you using, do you suffer from tensile or compressive stress, etc, etc? Saccharin can be removed from baths by carbon treating the electrolyte and then doing an analysis and re-adding any additives.

Trevor Crichton
R&D practical scientist
Chesham, Bucks, UK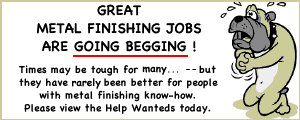 Plating Shop Manager [Salisbury, MD]
Junior Quality Engineer [Santa Clara, CA]
Plating Process Engineer [Wenatchee, WA]