World's #1 on-line resource since 1989
-----
Nickel silver-- problems with tarnish during tumble polishing
2002
I am polishing old nickel silver cutlery by tumbling in machine with 50 kgs of porcelain (keramo) angle cut cylinder chips size 04/05 . 8 hours gives a good shine. Now the problem. During the 8 hours a grey oxidation/tarnish builds up. The cutlery has a very hard grey glaze when finished.Very difficult and time consuming to remove by polishing mops. Can anyone suggest a liquid compound or additive or process that will give me the shiny silver colour I want.
Thanks,
Barry Spoons
- Dorking, Surrey, UK
---
2002
DO YOU USE A WET OR DRY POLISHING PROCESS? IT SHOULD BE A WET PROCESS IF A VIBRATORY METHOD IS BEING USED. OTHERWISE THE MEDIA WILL JUST "POUND" THE REMOVED MATERIAL BACK ONTO THE PART. ALSO, THERE ARE ADDITIVES THAT CAN BE USED TO ACCELERATE AND ENHANCE THE WET POLISHING PROCESS. WE POLISH NICKEL SILVER ALLOY HERE WITH A DRY PROCESS IN A ROTATING BARREL WITH THE PARTS FIXTURED ON RACKS.
JOEL TOMASETTI
- PETERSBURG, Virginia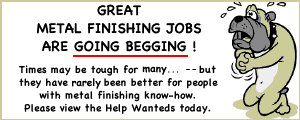 Plating Shop Manager [Salisbury, MD]
Junior Quality Engineer [Santa Clara, CA]
Plating Process Engineer [Wenatchee, WA]