World's #1 on-line resource since 1989
-----
Hardcoat Degradation: Aluminum Sulfate "Dust"
2002
I have a problem with a hardcoated part that interfaces with 3 plastic wear pads. I am seeing a degradation of the aluminum after several hours of use. A white dust is created which has been analyzed as aluminum sulfate. Any ideas?
James Polidori
clinical diagnostics - Rochester, New York
---
First of two simultaneous responses2002
Hardcoat anodizing is hard but has poor lubricity or frictional properties. You may want to consider electroless nickel plating.
Todd Osmolski
- Charlotte, North Carolina, USA
---
Second of two simultaneous responses2002
What is the shape of the hard coated part. If an inside curve then the vertical plains of the anodic coating are crashing into each other and cracking loose as fine powder.
If flat or an outside curve, then lets look ,for some other parameters. Alloy? Thickness? Temperature of hard coating? Acid concentration of hard coating? We may have to juggle some parameters to soften up the coating just enough to retard stress cracking. Higher temperature means slightly softer coating. Lower current density means softer coating.
There is no standards yet set on the definition of "hard coat". Some job shops apply it at 70 F, some at 50 F. real hard coat in my book is 30 F at 24 to 36 Amps per square foot.

Robert H Probert
Robert H Probert Technical Services

Garner, North Carolina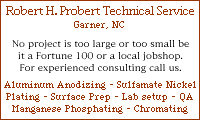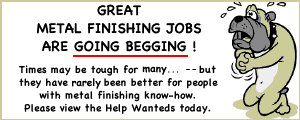 Plating Shop Manager [Salisbury, MD]
Junior Quality Engineer [Santa Clara, CA]
Plating Process Engineer [Wenatchee, WA]