World's #1 on-line resource since 1989
-----
Is electroless nickel (EN)corrosion resistant to hog manure
2002
I would like to know how corrosion resistant E-Nickel is when it is submerged in hog manure. If this is the ticket, how much should be applied .
John Bruyns
- London, Ontario, Canada
---
First of three simultaneous responses2002
Possibly. .002 in of high phosphorous electroless nickel would be a good place to start. If that does not work forget about it.
Todd Osmolski
- Charlotte, North Carolina, USA
---
Second of three simultaneous responses2002
Electroless nickel sounds fine to me, although more costly that some alternatives. It would need to be thick enough to be non-porous, which is probably a few ten thousandths of an inch.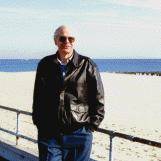 Ted Mooney
, P.E.
Striving to live Aloha
finishing.com - Pine Beach, New Jersey
---
Third of three simultaneous responses2002
It is doubtful that any work has been done on the protection that EN offers to hog manure.
Suggest you get some panels of the metal you intend fabricating with, send out for 0.0003, 0.0004, 0.0005, and up to 0.001 thickness of "high Phosphorus" electroless nickel.
When the panels come back from the plating shop, weigh each one out the 4th decimal place of a gram and record the weight. Then throw the panels in some hog manure in presence with any other nearby metal that can couple in a galvanic voltage, let corrode for as long as you can, then reweigh the panels and calculate the theoretical rate of corrosion.
Then let finishing.com know, and just maybe no one will ever have to repeat the experiment again.

Robert H Probert
Robert H Probert Technical Services

Garner, North Carolina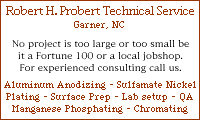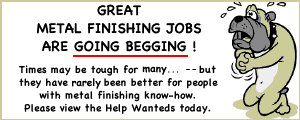 Plating Shop Manager [Salisbury, MD]
Junior Quality Engineer [Santa Clara, CA]
Plating Process Engineer [Wenatchee, WA]