World's #1 on-line resource since 1989
-----
What buffing compound for minor scratches on Stainless Steel?
2002
We are general contractors and have recently purchased a large quantity of Stainless Steel kitchen equipment for one of our jobs. My question: Is there a finishing compound for buffing out small scratches? And what are the steps in doing so?
Stewart Chapman
- Auburn, Alabama
---
2002
Buffing is a polishing or smoothing operation. I think you want to create a matching grain pattern which is an abrasive process. Now, if you have buffing equipment, the most important element, other than the wheel, is the rouge that goes on the wheel. You need an abrasive compound. The most common used is a product called tripoli [affil. link to info/product on Amazon]. There are others; however, if you consider using a non-woven wheel, you can eliminate the rouge problem altogether. This sponnge like material wheel will create the effect and blend in where necessary. The amount of pressure used against the part will be the biggest factor for blending or matching.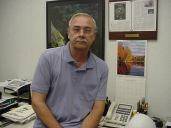 AF Kenton
Hatboro, Pennsylvania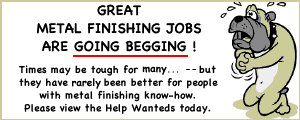 Plating Shop Manager [Salisbury, MD]
Junior Quality Engineer [Santa Clara, CA]
Plating Process Engineer [Wenatchee, WA]