World's #1 on-line resource since 1989
-----
Fluoride ion-selective electrode
2002
What are the purposes of using an acetic buffer and sodium chloride in an experiment about determination of fluoride content in sample using ion-selective electrode?
Wallace Chan
- Hong Kong, China
---
First of two simultaneous responses -- 2002
Tissab is used as a "swamping" agent. If you do not know what that is, I would consult Orien's Electrode manual.They might have it in electronic form on their web site. NaCl-You need to provide more information on the material matrix being tested.
James Watts
- Navarre, Florida
---
Second of two simultaneous responses -- 2002
I believe the response of the sensing electrode is determined partly by the fluoride concentration and partly by test solution pH (that is, hydrogen ion concentration), so you need a buffer that will result in a substantially constant pH at the testing stage, even though different sample solutions might be different pH as-sampled. Sodium acetate acts as such a buffer.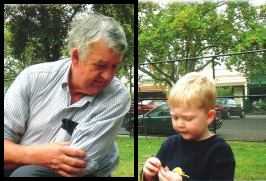 Bill Reynolds
[dec.]
consultant metallurgist - Ballarat, Victoria, Australia
We sadly relate the news that Bill passed away on Jan. 29, 2010.
---
November 24, 2008
It is the operation range. If the pH is too low, Hydrogen ion would interfere the detection.The concentration of H do not affect the measurement with pH >5.
Chan Yin
- Hong Kong, China
---
December 23, 2008
I am getting interference by chloride while measuring fluoride with solid state F ion selective electrode.
Why is this happening?
None of the literature support this. But I am facing the problem.
Aman Pandey
student - Mumbai India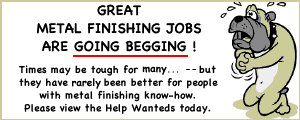 Plating Shop Manager [Salisbury, MD]
Junior Quality Engineer [Santa Clara, CA]
Plating Process Engineer [Wenatchee, WA]