World's #1 on-line resource since 1989
-----
How To Do Chrome Plating
2002
I would like to do my own chrome plating or low cost chrome for 1 cubic ft. parts or smaller, if anyone can help please.
Thanks,
Heath Trig
- Richmond, Virginia, USA
---
2002
Chrome plating is a dirty filthy nasty setup! There is no such thing as a cheap and safe setup. Initial cost is high. Chemical vendors will not sell to you in most places until you have a waste disposal permit. This is a HELLO EPA, come get me. The fines for bad record keeping in a spotless shop are high-- very high- because they do not want a lot of chrome tanks out there. Quote- highly carcinogenic.
I work on my truck, but I sure would not work on a Corvette because I have not been trained. Cost of a boo boo is high on it and is astronomically high in chrome plating.
Bad idea. If you still want to do it, check in with your local epa and then buy some books, then spend a day in a chrome shop. Most localities have zoning regulations against doing this at home and most will not let you do it in a commercial zone- Requires industrial zoning here.
James Watts
- Navarre, Florida
---
August 11, 2008
Hi, Heath. We have a Chrome Plating Tutorial on line here that will help you understand what is involved, and what alternatives you can follow if you wish. As James says, though, learn a lot about it before you buy anything (because you remain legally responsible for that chromic acid forever no matter how much you may pay to dispose of it).
Please review the tutorial then get back to us with your questions. Thanks, and good luck.
Regards,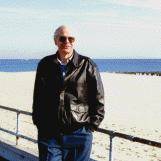 Ted Mooney
, P.E.
Striving to live Aloha
finishing.com - Pine Beach, New Jersey
---
2003
I am looking to start a small business in chrome plating and I need some information on how to get the equipment and chemicals, to get started.
Matt Schmitz
- Pana, Illinois, USA
---
2003
The first piece of information you probably need is that going into the chrome plating business is not like going into the carpet cleaning business, drywall business, or glazing business, because electroplating was the nation's first environmentally regulated business.
This means you need to know the laws. So I would start by getting or accessing 40CFR (the EPA portion of the Code of Federal Regulations) and getting a feel for the Chromium Plating MACT Standards, the 40CFR433 electroplating wastewater standards, and the standards for accumulation and disposal of F006 and related electroplating solid wastes.
Unlike some other businesses, you just can't jump into the plating business without risk of huge fines or jail. Don't even think about buying chemicals until you understand the environmental laws because once you buy them they are your problem forever, and beyond.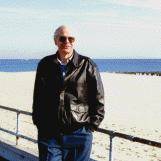 Ted Mooney
, P.E.
Striving to live Aloha
finishing.com - Pine Beach, New Jersey
---
2002
Seeking a clean process to chrome plate metal accessories. Are used machines available.
Andre Alexander
- Castries, St.Lucia, West Indies
---
2002
Hi, Andre. Chromium is plated out of solutions of toxic and carcinogenic hexavalent chromic acid--it's probably not something you should do on a casual basis, but you might prefer "chrome-look" paint.
We have an FAQ here, "Introduction to Chrome Plating" that may help you clarify for yourself exactly what you want to do. Good luck!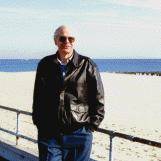 Ted Mooney
, P.E.
Striving to live Aloha
finishing.com - Pine Beach, New Jersey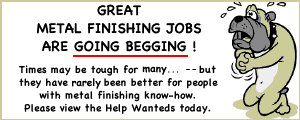 Plating Shop Manager [Salisbury, MD]
Junior Quality Engineer [Santa Clara, CA]
Plating Process Engineer [Wenatchee, WA]