World's #1 on-line resource since 1989
-----
How to tell if SiO coating is taking place
2002
Q. In our metallizing chamber after coating the reflectors with aluminium the process is followed by coating SiO powder. Please let me know how do I know that the coating is effective . The SiO powder is kept in boat and tungsten wire is dipped in it. The evaporation takes place at 10-4 torr.
V.Mahendra
- Nashik, Maharashtra, India
---
2002
A. I assume the purpose of the coating is two-fold: 1) scratch resistance, and 2) corrosion retardation. Since you are asking this question, I also assume you do not have an analytical tool such as an elliposometer or some other. One thing for sure, if the SiO2 powder has disappeared and is not visible on the floor (I mean chamber bottom), it has evaporated. Then the method you are using may have decomposed SiO2 into Si and SiO(1-x). Based on 1) and 2) above, if SiO(1-x) is deposited, you should have slightly improved scratch resistance. Scratch the coating lightly using a needle without putting perpendicular pressure and see if it responds better than Al alone. Then place a drop of alkaline degreaser and see if it dissolves Al in a short time. The oxide may be discontinuous and porous SiO(1-X) because of the way you are depositing it. Then it is a judgement call.
Mandar Sunthankar
- Fort Collins, Colorado
---
2002
A. Silicon oxide is an insulator, aluminum a conductor. You should be able to tell the difference with an ohm-meter. If you want a better measurement, take it to a laboratory and have them do Auger electron spectroscopy on the surface. Auger gives relative amounts of surface constituents, and by sputtering away the surface with argon they can also give you an idea of the depth of the silicon oxide layer, if it exists.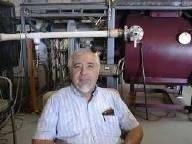 Jim Treglio
-
scwineryreview.com
PVD Consultant & Wine Lover - San Diego, California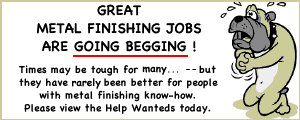 Plating Shop Manager [Salisbury, MD]
Junior Quality Engineer [Santa Clara, CA]
Plating Process Engineer [Wenatchee, WA]