World's #1 on-line resource since 1989
-----
Alternative to "Triklone" for metal cleaning?
2002
We have been given a project as a second year apprentice to try to reduce the amount of triklone that our company uses. We have come across your web page and it is exactly what I want, an alternative to triklone. Has there been any progress or new information on alternatives.
Thank you in advance,
Philip Twiate
- Coventry, West Mids, England
Ed. note: TRIKLONE is a trade mark of INEOS Chlor Limited, Runcorn, UK.
---
2002
All cleaning is a compromise between ease, effectiveness, cost and drawbacks. Alkaline cleaners have a lot of drawbacks and substitute organics just do not work as good. If you are talking about a vapor degreaser, there are a lot of things that can cut down on loss. Your equipment manufacturer will help as will the chemical Mfg. One place moved the degreaser under a heat/air vent and the use doubled. Sealing the vent dropped the use to the original level. Adding a vertical baffle wall at one end near the door cut it another 10 to 20 % Installing a 1/2 speed hoist lowered it some more. Browbeating the operators to use the equipment as instructed lowered it some more. Special covers lowered it some more. A bigger freeboard and more NOT colder freeboard chillers coils would have significantly lowered. Worth it? How about $1200 per week to about $300 in chemicals.
James Watts
- Navarre, Florida
---
Hi, Peter. For most applications, the general consensus seems to be to try to figure out a way to do the cleaning with aqueous chemistry instead of solvents if possible. If the parts are steel, this can often be done. If the parts contain two different metals it is much more difficult because of galvanic reaction. Solvents do not support galvanic attack, while all aqueous chemistries do.
If you decide to stick with the solvent, n-propyl bromide is currently in favor as a vapor degreasing replacement. Good luck.
Regards,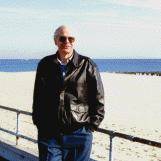 Ted Mooney
, P.E.
Striving to live Aloha
finishing.com - Pine Beach, New Jersey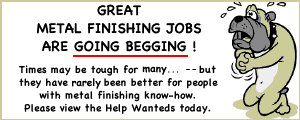 Plating Shop Manager [Salisbury, MD]
Junior Quality Engineer [Santa Clara, CA]
Plating Process Engineer [Wenatchee, WA]