World's #1 on-line resource since 1989
-----
Clarification about RoHS and hexavalent chromium ban
2002
Q. It appears that the European RoHS ban starting in 2006 will ban parts that have even trace amounts of hexavalent chromium. Chromic acid for conversion coatings, Iridite for paint prep as well as passivation of stainless steel, and chromic acid etch for anodizing aluminum can leave traces of Cr+6. No testing procedure or background levels have been established, however yellow chromate conversion over zinc is being eliminated due to the European Vehicle Directive for 2003. Does anyone have a definitive position about these other chromic acid preparations? Are they banned? Are they OK?
Dale Parks
- Rochester, New York
---
August 2008
A. It turned out that RoHS banned hexavalent chrome and 5 metals to levels low enough that hexavalent chromating cannot be used. In the meanwhile we now do have acceptable trivalent chromates both for zinc plating & aluminum, Boeing has a boric-sulfuric anodizing process which they tout as a replacement for chromic acid anodizing. I don't think passivation of stainless steel is a problem, but there are alternatives if it is. I've never heard of chromic acid etching of aluminum for anodizing, and haven't seen chromic acid used in the de-smut tank for a few years now.
The ban has to do with what materials are in / on the parts, not what chemical is in the process tanks, so hexavalent chrome plating remains fine.
As everyone predicted, though, the list of exempted items grows longer, and the definition of what comprises a "homogeneous material" seems to me at this point a bit ridiculous: The zinc plating on an item (which can't even be removed from the item with a chisel) is not considered "homogeneous" with the item; but the chromate conversion coating, which can be easily rubbed off with a pencil eraser, is considered "homogeneous" with the zinc plating on the item :-)
Regards,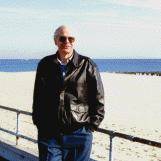 Ted Mooney
, P.E.
Striving to live Aloha
finishing.com - Pine Beach, New Jersey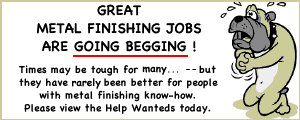 Plating Shop Manager [Salisbury, MD]
Junior Quality Engineer [Santa Clara, CA]
Plating Process Engineer [Wenatchee, WA]