World's #1 on-line resource since 1989
-----
How to remove rust from 55-gallon drums?
2002
Q. Dear sir,
I am looking for rust remover and anti rust coating for used m.s. drums of 55 gallons [made from c.r.c.a.sheets] so I can reuse the same drums for packing chemicals and acidic solvents.
Do guide sincerely,
Kamlesh Shah
- Ankleshwra, Gujarat, India
---
2002
A. Hi,
If it's not a heavy rust then probably you can try a phosphoric acid based rust remover =>
which will also give a layer of phosphating, and seal it with a rust preventive oil. You can source it locally from someone who is dealing with phosphating chemicals. Best of luck!
Nippinder Singh
- New Delhi, India
---
2002
A. The phosphoric acid is a good idea. Another option is a simple 10% citric acid [affil. link to info/product on Amazon] solution in water. Cheap, safe, simple. Fill the drum, leave it overnight and rinse it out in the morning. If you have more than one drum, the same solution may be used for subsequent cleanings. This will not provide the [rust-deterring] phosphate coating like the phosphoric acid, but its safe and very mild on the base steel. The citric only goes for the rust, essentially leaving the base metal alone (unless left in contact for a long time). Citric is slow acting at ambient temperatures but thorough.
Todd Turner
- Monroe, Louisiana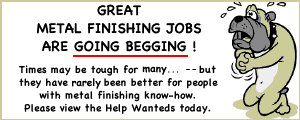 Plating Shop Manager [Salisbury, MD]
Junior Quality Engineer [Santa Clara, CA]
Plating Process Engineer [Wenatchee, WA]