World's #1 on-line resource since 1989
-----
STATUE SEALER
2002
I HAVE A LARGE CEMENT DOG THAT IS GOING TO BECOME A GRAVESTONE IT WILL BE EXPOSED TO THE ELEMENTS AND I NEED ADVISE ABOUT A SEALER FOR IT. IT HAS A SLIGHTLY PAINTED SURFACE. PLEASE HELP ME WITH YOUR ADVISE. THANK YOU
MARILYN LEBEL
- COLUMBIA, Connecticut, USA
---
2002
Marilyn,
Personally I haven't the slightest clue BUT would suggest that you approach a museum for some help.
At the Aetheneum in Athens, they are constantly upgrading the columns etc using modern materials. Am not sure but I think they were using vinyl compounds.
As your 'dog' already has been painted, I guess you'd need to preclean PROPERLY in order that any paint will adhere. Whatever you do, ensure you use a good U.V. resistant paint as it would be a doggone shame if you didn't !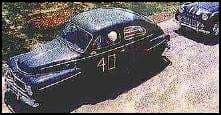 Freeman Newton
[dec]
(It is our sad duty to advise that Freeman passed away
April 21, 2012. R.I.P. old friend).