World's #1 on-line resource since 1989
-----
Appropriate vibro media for deburring boron steel
2002
Dear all,
We use a Boron Steel 10B21 (Steel with 0.002% of Boron) to make our Padlock Shackles. We have a Vibro deburring machine that can do deburring and wish to purchase an aggressive vibro media to remove burrs from broaching. However, at the same time, we also wish to preserve the stamping on the shackle, so it remains legible. Should one use a Ceramic Media, or Aluminium Oxide or Stainless Steel media, or others?
Any suggestion is appreciated.
Gabriel Tang
- Melbourne, Australia
---
2002
Not too familiar with metal in question. I assume it is hard. Also, your wording kind of indicates more than one problem or possibility. If you are looking to just deburr the part, I'd suggest a fast cut ceramic media. If the metal is over a Rockwell hardness of 50, then you might want to use a silicon carbide ceramic. Neither one of these will produce a good looking or reflective finish. If your burr is not that great and dimensions are not a problem. then your might be able to use a steel burnishing media to get a bright reflective finish.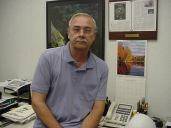 AF Kenton
Hatboro, Pennsylvania