World's #1 on-line resource since 1989
-----
Flaking of silver on SS
2002
We are using new VCR fittings which have a silver coating (electro-plated)in the inside of the nut to prevent galling between the SS nut and the SS male mating part. We experienced flaking of the Silver and the Manufacturer is claiming that the phosphorous content (resulting from the chemical cleaning) is the cause for the flaking. Flaking is taking place more at where the cleaning occurs than where the threaded part is. I know that Silver is non reactive with Phosphoric Acid. So is it the plating that is defective or is it the phosphoric that is causing the flaking? We tried to dip the nut in the acid for few minutes with an electric current (simulating the cleaning process) but the flaking didn't happen!
Please let me know if you have an answer.
Michael Shaban
- Campbell, California, USA
---
2002
Hi,
Could you give more details of chemical cleaning and the total pre-plating process please? I have been plating on SS without a problem for quite a few years.
Vijay Deval
electroplaters - Pune, Maharashtra, India
---
2002
A typical process for plating silver on stainless steel would be:
1. Remove organic soil in an alkaline cleaner. If electrocleaning is used then the parts should be cathodic and the cleaning chemicals completely free of alkaline soluble metals like tin, cadmium, zinc, etc...
2. Cold Water Rinse CWR
3. Hydrochloric Acid Dip
4. Nickel Chloride Strike (Woods)
5. CWR
6. Silver Strike (Low efficiency silver plating solution)
7. Silver Plate.
I was silver plating stainless steel in 1950 and have never heard of using phospharic acid anywhere near the process.

Robert H Probert
Robert H Probert Technical Services

Garner, North Carolina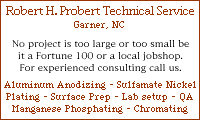 ---
2002
We make & break VCR fitting seals every day. We found uncoated 316 gaskets work well, especially if the seal is not going to be subjected to ambient heat greater then the specs for the fittings. I believe the threads on the barrel & connector are silver plated as well, but this is more important then the face seal. You might want to look into VCO fittings; less torque is needed to make the seal in the VCO.
The uncoated seals are 316 stainless. Experiment before making the change, as the process of replacing Welded VCR fittings is messy & time consuming.
Dale Woika
- Bellefonte, Pennsylvania