World's #1 on-line resource since 1989
-----
Galvanic corrosion or porosity
2002
We black anodize casting parts. In the same batch some parts come out perfectly good while others come out with white pits.
We use titanium racks. How can we be sure that the problem is the porosity and not galvanic corrosion ?
Veronica
- Florida
Ed. note: Full name and name please Veronica.
---
2002
Go to Section 8 of finishing.com and read "White Spots".
With heavy castings and titanium tips it is probable that you are not getting enough current on the castings. Use aluminum contacts and put 21 volts on sand castings and 23.5 volts on die castings. Get the calcium and magnesium out of the line especially in Florida. If you have been running 7000 metal then get the zinc out of the line. Use a 5% Nitric Acid dip between the anodizing tank and the seal. Be sure your dissolved aluminum is below 8 gm/L preferable down to 5 gm/L. And never never never alkali etch castings.

Robert H Probert
Robert H Probert Technical Services

Garner, North Carolina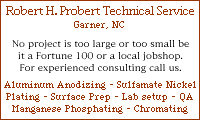 ---
2002
Vacuum impregnation is a widely used, well known process of filling porosity with thermosetting epoxy resin prior to anodizing and painting to avoid "white" spotting caused by chemicals that are entrapped in the pores.
Good luck.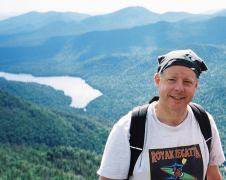 Milt Stevenson, Jr.
Anoplate Corporation

Syracuse, New York