World's #1 on-line resource since 1989
-----
Chrome polishing dust fire
2002
We are in debate at our shop as to the best way to extinguish a fire of 1) loose chrome polishing dust; and 2) chrome polishing dust impregnated in paper filter media. The paper filter media is fire-resistant, but it still catches on fire. We had one filter on fire, and used an ABC, which was not totally effective. We removed the filter, took it outside and threw water on it. This put the fire out, but I am not sure whether this approach would be suitable for a dusty shop.
I guess my basic question is: Is water a safe way to extinguish fires of chrome polishing dust in the shop?
Gordon Filipchuk
- Edmonton, Alberta, Canada
---
2002
Hi Gordon,
Am not sure what your 'system' is but ask the question ... is it not possible to remove your filter cartridges and, crudely speaking, water wash down the chrome dust?
If you do that properly, then you should be able to knock out all the chrome dust which your lungs will certainly appreciate !
If you used an el-cheapo m.s. fan, some ducting AND a well designed/made blade type (horizontal flow)inertial mist eliminator this should work very well. You'd also need a m.s. pump and a little tank (Poly?) AND a float valve otherwise your water level will drop due to evaporation.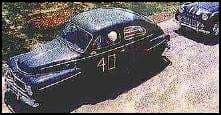 Freeman Newton
[dec]
(It is our sad duty to advise that Freeman passed away
April 21, 2012. R.I.P. old friend).

---
2002
Gord responding to Freeman:
We have just installed a dry dust collector with a pulse cleaning system. It works well in eliminating the dust from the air, but yes, there is a problem with the build up of dust within our vacuum chamber and in the dust collection drawers - it must be manually picked up and properly disposed of. (Of course I now know that a CO2 extinguisher is necessary in case of such a fire).
We have considered using a water-wash system and have in fact tried a crude one. The problem we encountered was removing the dust from the water to allow it to recirculate. Any filter media would need to be constantly cleaned in order for such a system to work well. How to clean it? Another water wash down? This is a possibility...
Thanks,
G. Filipchuk
- Edmonton, Alberta, Canada