World's #1 on-line resource since 1989
-----
Adherent Nickel Plating on Haynes 214
2002
We recently nickel plated a nickel alloy, Haynes 214, which contains mostly nickel but has 4.5% aluminum. Upon brazing at 1200 deg F, the nickel lifted in areas. We used conventional Woods nickel strike, but obviously need something more. Does anyone have a tried and proven method for plating nickel on Haynes 214?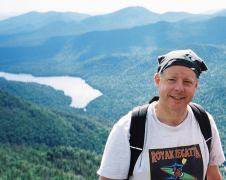 Milt Stevenson, Jr.
Anoplate Corporation

Syracuse, New York
---
2002
Hi Milt,
Woods Nickel Strike means different things to different people. Try the upper end of the concentrations as in 2 #/gal Nickel Chloride and 1 full quart per gallon HCl, some call this 32/32 for 32 av oz and 32 fluid ounces.
If that improves but does not quite get it all, then pickle in hot HCl,no rinse and dip in room temp HCl then no rinse and go LIVE direct into the Nickel Strike at 9 to 12 volts, then quickly turn back down to about 6 volts.

Robert H Probert
Robert H Probert Technical Services

Garner, North Carolina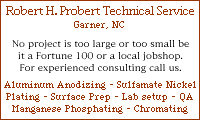 ---
2002
In the dark ages, we used a sulfuric-HF with a very low anodic current and then the Woods Strike. We tried a nitric HF dip for a few seconds that also appeared to work. Lived thru heat treat steps.
James Watts
- Navarre, Florida