World's #1 on-line resource since 1989
-----
Controlling pH in Electroless Nickel
2002
I work in a job-shop, and use electroless nickel out on the line. We use ammonia to control the pH, but ammonia has a very strong odor. Is there any other chemical that can be used to control pH other then NaOH, potassium carbonate and ammonia? Thank you for your time.
Kim, Paul
- Inchon, Korea
---
2002
Since you always have to add make up water to compensate for the evaporation, dilute your ammonia. This is much better for your chemicals since it does not have the shock of a high pH. Once you figure out your amount of dilution, you can rapidly determine how much of the diluted ammonia you need to add. In one place that I worked, we made additions by dripping The components in from plastic jugs. This leveled out the chemistry, pH and temperature which gave us a very stable deposition rate.
James Watts
- Navarre, Florida
---
2002
You can also try adding the ammonia solution to the bottom of your tank by a suitable pipe. It will get to the surface quickly because of the less density and temperature, but it will somewhat mix in its way up and produce less odor.
Guillermo Marrufo
Monterrey, NL, Mexico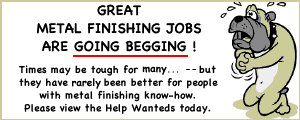 Plating Shop Manager [Salisbury, MD]
Junior Quality Engineer [Santa Clara, CA]
Plating Process Engineer [Wenatchee, WA]