World's #1 on-line resource since 1989
-----
How to calculate % of CrVI in bath to % on finished part
2002
Is there a way to determine how much CrVI is present on a finished part from one of my suppliers when the only known factor is the percentage of CrVI is in the water-based plating bath?
My supplier says there is between 0.25% - 0.70% CrVI in the plating bath.
With this information can I calculate the amount of Hex (percentage-wise) is in the plating when dry on the part?
For example: Zinc - 99% & CrVI - 1%
Can anyone shed some light on this for me?
Jeff Gerdon
- Miami, Florida, USA
---
2002
You can determine the thickness of the zinc metal with a magnetic thickness testing instrument several of which are advertised in the trade journals the best being the Magni-Gage.
You can determine the "coating weight" of the chromate by weighing a chromated panel, stripping the chromate and re-weighing. Detailed procedures are available.
The concentration of Hex Chromate in the solution is not necessarily directly a linear function of the resultant coating weight of the applied chromate. Other factors such as pH, temperature, time, contaminants, and even the purity of the zinc deposit which would be more pure out of an alkaline bath and loaded with co-deposited junk out of an acid chloride solution.

Robert H Probert
Robert H Probert Technical Services

Garner, North Carolina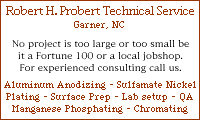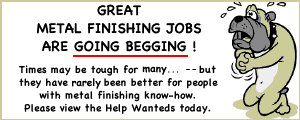 Plating Shop Manager [Salisbury, MD]
Junior Quality Engineer [Santa Clara, CA]
Plating Process Engineer [Wenatchee, WA]