World's #1 on-line resource since 1989
-----
Re-create factory finish on stainless sheets
2002
I am creating a kiosk out of 16 gauge 304 stainless sheets with a 2b brushed finish. I pretty much need to refinish most of the surfaces because of welds, grinds and scratches. Is there a specific sanding machine that re-creates the factory finish?
HELP!
Billy Econ
- Newton, NJ
---
First of two simultaneous responses -- 2002
Take an orbital sander to the stainless and give it a random finish. You will never maintain a scratch finish on a public kiosk. Make sure you use discs that do not contain iron. We recently encountered a situation where 316L was sanded with aluminum oxide discs that were found to contain 1.6% iron. The result was as you might expect. Proper passivation after achieving the desired surface profile is mandatory.
Dan Weaver
- Toccoa, Georgia
---
Second of two simultaneous responses -- 2002
Chances are you have a No. 3 or No. 4 brush finish SS. If you do get a matching Scotch Brite pad and sand into the direction of the grain. 2B finish typical is not consider a polished finish for stainless steel.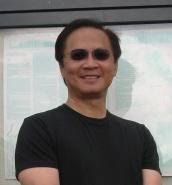 Michael Liu Taylor
specialty stainless steel distributor
Dallas, Texas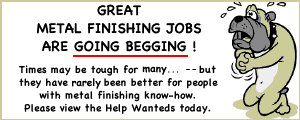 Plating Shop Manager [Salisbury, MD]
Junior Quality Engineer [Santa Clara, CA]
Plating Process Engineer [Wenatchee, WA]