World's #1 on-line resource since 1989
-----
Fixer-recycling /silver-recovery legal and hazards questions
affil. link
"Recovering Silver from
Photographic Materials"
by Eastman Kodak Co.
from Abe Books
or

2002
We are in the process of opening a fixer-recycling /silver-recovery business, and would like to know about the legal side of it. Can we open in a business area or does it have to be an industrial site? We will register, and have a business license. Do we need a precious metals license? Are there any toxic hazards. We know about the corrosion, and have established there is no cyanide discharge in the process, but is there anything our staff need to be cautious about?
We are based in South Africa.
Thanks for your time!
Kris Blades
- Capetown, South Africa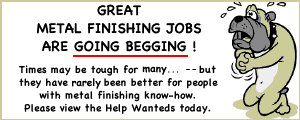 Plating Shop Manager [Salisbury, MD]
Junior Quality Engineer [Santa Clara, CA]
Plating Process Engineer [Wenatchee, WA]