World's #1 on-line resource since 1989
-----
Ph determination
2002
I need to verify ph of a chromic acid solution in the .4 to .7 range. So far I have not been able to find a good stable way to verify ph at that level. Could anyone help with a suggestion.
Thanks,
Gerald W. Harvey
- Hot Springs, Arkansas
---
2002
Have you discussed this requirement with any company that makes pH meters?
Bill Hemp
tech svc. w/ chemical supplier - Grand Rapids, Michigan
---
2002
Sounds like you are checking a chromic anodize tank. You need to use a good quality pH meter which will do either a 3 or 4 point calibration. Use 1.0, 4.0 and 7.0 buffers for the calibration. The more data points used in the calibration, the more accurate the result.
Phil Pace
- Tulsa, Oklahoma
---
2002
I agree with Phil and this is what we are doing in our labs. But still there is a question of how we are sure about measurements of pH below 1 ( I don't know of any buffer with pH 0.0 or even 0.5).We have to measure pH values, which have to be between 0 and 0.6! Do you have any suggestions?
Angela Nikolaou
Hellenic Aerospace Ind. (HAI) - Tanagra, Greece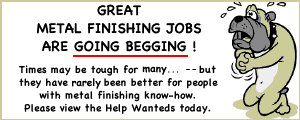 Plating Shop Manager [Salisbury, MD]
Junior Quality Engineer [Santa Clara, CA]
Plating Process Engineer [Wenatchee, WA]