World's #1 on-line resource since 1989
-----
Corrosion
2002
Dear Sir,
Could you please advice me on the optimum protection for our stainless steel coils from the following:
Sodium hypochlorite (7.5%) used in cleaning.
Silver chloride ~5% by weight in an excess chloride environment, acidified with nitric acid to a pH of 5. The st.st. is exposed to the above at different stages of the process.
We are considering electro polishing or passivation, which protection process would you recommend?
Any details on these processes would be appreciated.
Many thanks, Regards,
Metul P. Sachania
- London, England, UK
---
2002
Metul:
This is a very difficult atmosphere for stainless steel. Chlorides are one of the worst things that you can put on stainless steel. What grade is the stainless?
The best corrosion resistance that you can attain in this situation (without coating the stainless) is to electropolish it followed by passivation. Even with this you probably will have ongoing corrosion and will need to reclean and passivate down the road.


Lee Kremer
Stellar Solutions, Inc.

McHenry, Illinois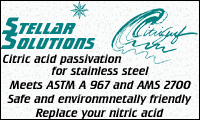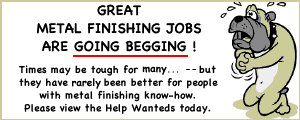 Plating Shop Manager [Salisbury, MD]
Junior Quality Engineer [Santa Clara, CA]
Plating Process Engineer [Wenatchee, WA]