World's #1 on-line resource since 1989
-----
Rust spot removal
2002
I have a 316 SS formulation tank with rust spots in the bottom. What I can use for remove these spots.
Hector Cirilo
- New Jersey
---
2002
Hector:
There are a number of products and procedures that could be used for this depending on the size of the tank, the severity of the rust, etc. Typically for this application we recommend a citric formulation heated to 150-160 °F, if possible. This will clean it up well and safely, and will re-passivate the surface to help prevent ongoing rust. Let us know if we can help.
Best regards,


Lee Kremer
Stellar Solutions, Inc.

McHenry, Illinois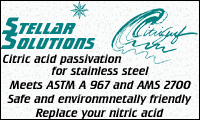 ---
2002
You would need to take a closer look at the rust spots. Is it surface rust? Is there pitting? Although citric passivation is a possibility it is more likely that you would need mechanical polishing of that area and then either passivate the area or better yet have the spots electropolished. There are companies out there that can come on-site to to do all this work for you.
Brian Sanders
- Bradford, Pennsylvania, USA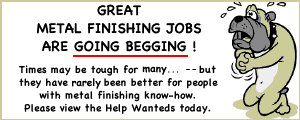 Plating Shop Manager [Salisbury, MD]
Junior Quality Engineer [Santa Clara, CA]
Plating Process Engineer [Wenatchee, WA]