World's #1 on-line resource since 1989
-----
Plasma nitriding pulse shape
2002
Dear Sir:
I am using a plasma nitriding equipment for hardening of low alloy steel at a temperature of 500 degree C(±1 degree C) measured on the surface. The pulse duration is 60 micros. I would like to know if the shape of the plasma pulse has any affect on the final properties of the surface.
Thank you,
Daniel Wisnivesky
- Campinas S.P. Brazil
---
2002
Does your equipment allow you to change the shape of the pulse? If it does, you can do trials with different shaped pulses and check for any differences in the hardened layer. A few direct tests will be worth more to you than opinions formed at a distance.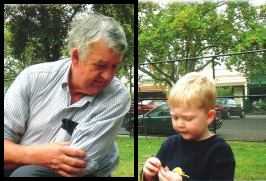 Bill Reynolds
[dec.]
consultant metallurgist - Ballarat, Victoria, Australia
We sadly relate the news that Bill passed away on Jan. 29, 2010.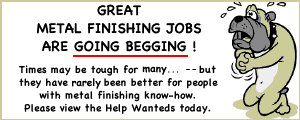 Plating Shop Manager [Salisbury, MD]
Junior Quality Engineer [Santa Clara, CA]
Plating Process Engineer [Wenatchee, WA]