World's #1 on-line resource since 1989
-----
Chemical Removal of Brass Plating
2002
Is there any chemical way to remove brass plating? I need to reveal the stainless steel underneath.
Thank you.
Cory Allers
- Edmonton, Alberta, Canada
---
2002
The old traditional is 90 g/l of NaCN with 15 g/l of NaOH @ room temperature. Make the work anodic and use steel cathodes. Although the handbooks all say 6 volts, start out easy at 2 volts.
Another alternate is ammonium persulfate 75 g/l with 375 ml/l of aqua ammonia at 70-85 deg. F with no current. Many proprietaries are also available.
Charles Reichert CEF-2
- Seattle, Washington
---
2002
If the base is stainless steel then the simplest is nitric acid say 20-50% vol or say 10% sulphuric acid with additions of hydrogen peroxide preferably with a stabilizer e.g., phenol, alcohol.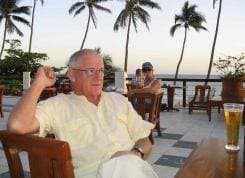 Geoffrey Whitelaw
- Port Melbourne, Australia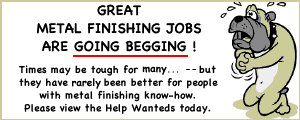 Plating Shop Manager [Salisbury, MD]
Junior Quality Engineer [Santa Clara, CA]
Plating Process Engineer [Wenatchee, WA]