World's #1 on-line resource since 1989
-----
Tin importer and EPA regulation on waste water treatment
2002
I'm really glad to find this site. I don't know if anyone can help me with the following 2 questions or tell me where I can find the answer:
1. What are the top 3 tin importers in USA?
2. Where can I find the EPA regulations on the waste water treatment for PCB manufacturers?
Thanks,
Shawn Shih
- Lexington, Massachusetts
---
First of two simultaneous responses -- 2002
I don't know about #1, but circuit board manufacturing wastewater is covered by 40 CFR 413.

James Totter, CEF
- Tallahassee, Florida
---
Second of two simultaneous responses -- 2002
The EPA website is actually fairly user-friendly and has a good search function at www.epa.gov
Most State EPA's have good sites, too. The major regulations are found in Chapter 40 of the Code of Federal Regulations, Sections 413, and 433. These are abbreviated like the following: 40CFR413. There are also new proposed rules in section 438 (Metal Products and Machinery), which, if enacted, would effect the limits applied to the PWB Industry. These are being vehemently opposed by industry and the local sewer districts and trade associations. We won't know if they will be enacted and if so, in what form, until ++. If new regulations are enacted, existing sources have 3 years to comply.
There are specific sections for the Printed Circuit B oard category. State Regulations usually are virtually identical to the Federal ones, but local sewer districts may have some more stringents or added requirements, like a TDS or a BOD limit.
The IPC website is another excellent one, especially for new regulatory developments. Good luck, if you need more help in finding them you can contct me through my Company's web site.
Lyle Kirman
consultant - Cleveland Heights, Ohio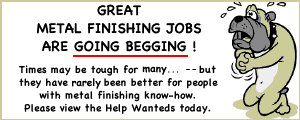 Plating Shop Manager [Salisbury, MD]
Junior Quality Engineer [Santa Clara, CA]
Plating Process Engineer [Wenatchee, WA]