World's #1 on-line resource since 1989
-----
Plating recommendations for salt spray test improvement
2002
We have an application using a heat treated steel terminal that is tin-zinc plated with Trivalent coating. When terminal is crimped to a copper wire, the assembly including the crimp joint must pass a 400 hour salt spray test. -- The test result failure is a white and red corrosion as a result of incompatibility between the Trivalent coating and the copper wire.
Considering the steel and copper joint, what type of plating would pass a 400 hour salt spray test without exhibiting white and red rust?
Robert Shipp
- Logansport, Indiana
---
2005
Please let me know the details of trivalent process ,
a) chemical used
B) SST life above 400 hrs
C) Platers in India who have adopted this process.
Presently my customer needs steel parts Zinc plated, yellow passivation, (FeZn12cC1) with salt spray life of 400 hrs min. Otherwise kindly suggest any other technology where we can meet our customer requirement.
Regards.
Anup Kumar Jain
- Manesar, Gurgoan, Haryana AND India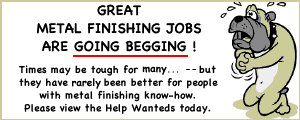 Plating Shop Manager [Salisbury, MD]
Junior Quality Engineer [Santa Clara, CA]
Plating Process Engineer [Wenatchee, WA]