World's #1 on-line resource since 1989
-----
More sludge in Zn phosphating tank
2002
We are having a pretreatment line with 11 tanks method(degreasing, derusting and phosphating)with 8000 ltrs capacity tank.
We are using zinc phosphating chemicals. Now a days the sludge collection has become more that we have to clean the tank once in a month as against once in six months earlier.
Will you suggest some method so that we can arrest the above said problem.
S.Subramanian
Harita Grammer Ltd - Tamilnadu, India
---
2002
I suggest try all the following possibilities.
a. Reduce Zinc Phosphate bath Temperature to the minimum tolerable
b. Increase concentration of the grain refiner in the grain refining bath before the zinc phosphating bath stage.
c. Reduce acid ratio in the zinc phosphate bath to the minimum tolerable.
d. Reduce the toner concentration in the zinc phosphate bath to the minimum tolerable.
In case that all the operation above did not help, consider replacing the Zinc Phosphate product solution supplier to a non sludgy or low sludgy better product.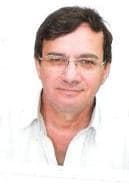 Yehuda Blau
YB Plating Engineering and Quality - Haifa Israel
---
2002
Automatic Indexing paper filters do a wonderful job of removing sludges solids from Phosphates. Typically, they will have a metal or plastic conveyor which carries the paper. The liquid is pumped or allowed to flow by gravity into the reservoir. The clarified phosphate solution flows into a "clean" sump for return to the process tank.
The solids stay on the paper. Eventually the solids blind off the paper, and the liquid level rises, tripping a level control, which indexes the paper on the conveyer. The waste paper with accumulated solids fall into a waste bin for easy disposal.
Not only does the solution stay free of sludge, but your heaters (or steam coils, if used) stay cleaner longer, extending the life of the heater or coil. Serfilco is one manufacturer of such a product. They call theirs a DF Automatic Gravity filters.. They have a helpful bulletin on phosphating, even specifying unit sizes for various applications.
Chuck Reichert CEF-2
- Seattle, Washington
---
2006
Dear Mr. Subramanian,

What you say is the huge difference in sludge. This could be of varied reasons.
1 - You have changed the source of your Phosphating Chemical.
2 - The chemical Balance is disturbed.
3 - Free acid is high. The ratio of Total Acid & Free Acid should be around 7 : 1
4 - It may be possible that some of the derusting Chemical is being carried to Phosphating bath due to poor rinsing. Are your components are same as previous or different, more complicated with lot of curves & crevices.
5 - avoid running bath at low temp. than specified and low accelerator.
6 - Finally, complain to your supplier of the difference.
Prabhakar Gupta
- Kanpur, U.P., India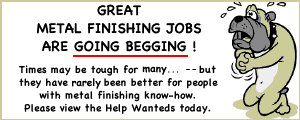 Plating Shop Manager [Salisbury, MD]
Junior Quality Engineer [Santa Clara, CA]
Plating Process Engineer [Wenatchee, WA]