World's #1 on-line resource since 1989
-----
Glossmeter
2002
Please tell me about glossmeters. How they work? What is the unit of measurement? Etc.
AJIT PAL SINGH
- Jamshedpur
---
2002
The glossmeter we have in our labs functions i.a.w ASTM D 523. There you will find a lot of answers to your questions. Generelly it is used for the measurement of specular gloss of nonmetallic specimens. "Specular gloss" is the relative luminous reflectance factor of a specimen in the mirror direction. "Relative luminous reflectance factor" is the ratio of the luminous flux reflected from a specimen to the luminous flux reflected from a standard surface under the same geometric conditions.In our labs we have the 155 Glossmeter, and we use it mainly to measure the gloss of painted surfaces. The manufacturer of above glossmeter is an English compnay, SHEEN, but there are others as well. i.e. BRAIVE, ERICHSON, e.t.c. The units of measurements are the " Gloss Units" Angela Nikolaou
Hellenic Aerospace Industry - Tanagra, Greece


---
2002
I have tested a glossmeter from Rhopoint, UK, with good results.
Giovanni M. Ciriani
Promotion - Altavilla, VI, Italy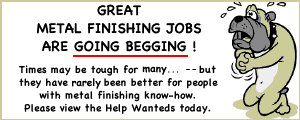 Plating Shop Manager [Salisbury, MD]
Junior Quality Engineer [Santa Clara, CA]
Plating Process Engineer [Wenatchee, WA]