World's #1 on-line resource since 1989
-----
Anodize one surface on Alu
2002
We have a Alu. 6061-T6 part require to have Anodize Mil-A-8625 [link is to free spec spec at Defense Logistics Agency, dla.mil] Type 3 class 2 (which is hard anodize) at one side of the surface, this part also require a conversion coat Mil-C-5541 [link is to free spec at Defense Logistics Agency, dla.mil] Class 3. Is this mean that this part should go for conversion coat (MIL C 5541) and than anodize (MIL 8625) at the require side of this part?
Because of MIL 8625 can only coat at one side and the other must be free from anodize, no one here can guarantee free of anodize at one side. Is there a special masking required?
William Wong
- Singapore
---
First of two simultaneous responses -- 2002
Many maskants are on the market, look in the trade journals and find one. Many job shops here in the states are capable of applying hard coat to one side and chromate to the other side. There are many different ways to do this.

Robert H Probert
Robert H Probert Technical Services

Garner, North Carolina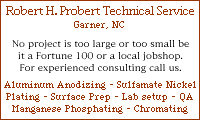 Ed. note: Or, since you're here, consider the masking suppliers whose support makes the discussion possible, and whose banner ads you will see in the top right corner of the page. Good luck.
---
Second of two simultaneous responses -- 2002
William,
Typically, a coater will conversion coat the whole part..then mask the areas that will remain conversion coated, then remove the conversion coat (on the area to be anodized) in an etch just prior to anodize. Its fairly common, and I can't imagine why this would be such a difficult task, unless you have a very complex part, but even then.. it is achievable. However.. metal finishing being as it is.. there is always a chance of anodizing "bleeding in" to the area that needs to be free of anodizing. This, however, can be minimized with proper masking techniques.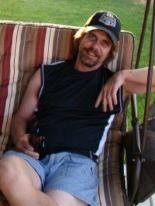 Marc Green
anodizer - Boise, Idaho
---
2002
With dip type maskants, bleed is directly related to the care, or rather lack of care, that the maskant is trimmed.
With tape, the type of glue and the amount of glue are factors, but the largest is how well the edges of the tape were rubbed or "burnished" to get a complete seal.
James Watts
- Navarre, Florida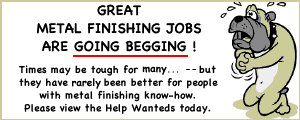 Plating Shop Manager [Salisbury, MD]
Junior Quality Engineer [Santa Clara, CA]
Plating Process Engineer [Wenatchee, WA]