World's #1 on-line resource since 1989
-----
Porous Plastic Pipe, sediment holder, research project
2002
Dear Sir,
We wish to buy porous plastic pipe having dimensions (approx.) 50 mm OD (2 inch) with 1-2 mm wall thickness, at least 150 mm in length, to research its use as a holder for sediment samples obtained from below the seafloor.
We are researching ways of holding soft sediments intact, but under pressure that enable us to image their contents by passing electrical currents through them. We need a porous plastic tube to do this (conductive plastic has been tested and is not suitable for this application).
I am having trouble finding a supplier in the UK. Can anyone help?
Thanks,
Peter Jackson
- Keyworth, Nottingham, UK
---
2002
Peter,
Please have a gander in the archives at # 7718 ... as this deals with porous plastic pipe.
Many of the 'repliers' are U.S. based ... but maybe they can lead you onto the right track. Let's hope so.
Cheers !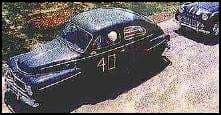 Freeman Newton
[dec]
(It is our sad duty to advise that Freeman passed away
April 21, 2012. R.I.P. old friend).