World's #1 on-line resource since 1989
-----
Faded paint
2002
I just purchased a 56 Olds which is two tone in color. The green, which is on the trunk and lower half of the car is badly faded. I have heard about wet sanding and buffing compound but am confused about the best method to use to try and bring the paint back as close as I can to its original condition. What do you recommend?
Randall Wayne Berg
- Burnsville, Minnesota, USA
---
2002
All such processes are based on the theory that if you take a little of the oxidized and faded paint off the surface you'll reveal what is below it. The balance point being that you want to take off enough for the theory to work, but not so much that you go all the way through the paint, or leave nothing for a repeat operation later. So I suppose I'd get a tin of rubbing compound from an auto parts store and see what happens on a small area.
The paint, if original, is 46+ years old. What you want to do has probably therefore been done a few times already, and one possibility is that the paint is bleached to the bone.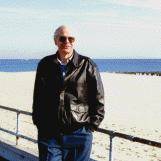 Ted Mooney
, P.E.
Striving to live Aloha
finishing.com - Pine Beach, New Jersey
---
2002
Randall:
Do you know if the paint is original? If you find that it is I would not advise wet sand and buff because the paint is more than likely a straight enamel and it will not take well to sand & buff processes. A pre-wax cleaner may help to some degree but if you want the paint to be really nice, I would suggest a strip and repaint with modern paint technology products.
Bill Miller
- Shinnston, West Virginia